There are so many varieties of bread flour out there, it can be difficult to know which are the best bread flours in the UK. 
You might be thinking, surely flour is just flour, but having experimented with many different types of bread flours I have experienced varying results, which I'm going to share with you today.
In this post, I'll show you the various types of bread flours you can buy, including what you use them for, what to avoid, and where you can find them.
---
Bread flour we recommend
In 2020 and during lockdown it became increasingly difficult to buy bread flour for many months and especially in supermarkets where some shelves have been pretty much empty in that department.
The good news is, there are some amazing flours which you can buy online if you know where to look.
The current situation is bringing smaller mills in the UK to the forefront, which is great because generally, these flours are so much better than most you can buy in a supermarket (although more artisan bread flour is becoming available in supermarkets). 
Here is a list of some of the best bread flours (by type) available in the UK which you can buy online and in some cases find in supermarkets:
1 – Strong White Bread Flour
Strong white flour is a staple flour for many types of bread, the flours I am recommending below don't contain any nasty additives.
What can you use strong white bread flour for?
There are many bread recipes you can use strong white bread flour for, but here are just a few:
White loaves and bloomers.
Sourdough starter and bread.
Pizza.
Breadsticks.
Flatbread, pitta bread etc.
Bread rolls.
Recommended Strong white bread flour
Heygates strong white bread flour – a classic strong white bread flour that provides excellent results every time thanks to its higher gluten-producing protein levels (12%). 
Marriages Premier White Bread Flour – High-quality, fine white bread flour which is milled in Essex using local grains.  
Matthews Cotswold Strong White Flour – A good all-round strong white flour which you can now buy in Tesco.
2- Strong Wholemeal Bread Flour
Wholemeal bread flour is made using the whole grain or a large percentage of the whole grain.  Some flour mills still use traditional methods to produce this type of bread flour.
Wholemeal bread is a tasty and healthy alternative to white flour and it contains natural nutrients.
What can you use strong wholemeal bread flour for?
Many bread recipes can be converted to a wholemeal version.  Here are a few good ways you can use wholemeal bread flour:
Classic wholemeal tin loaf.
Wholemeal bread rolls.
Pitta bread.
Bagels.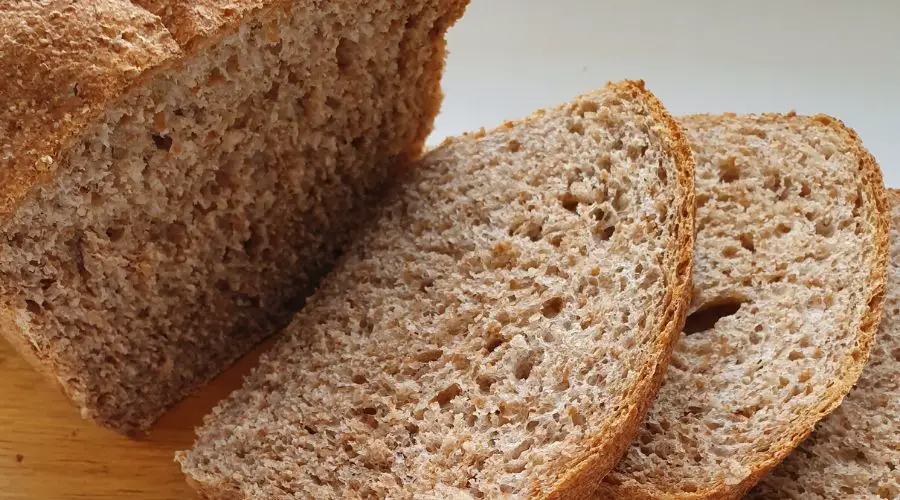 Recommended Strong wholemeal bread flour
Wrights strong Wholemeal Bread Flour – High quality, strong wholemeal flour milled by Wrights who are a traditional flour mill based in the UK. 
Marriages strong Wholemeal Bread Flour – Made using a traditional stoneground process. Containing 100% Canadian wheat which has a very high protein content and therefore will produce an excellent rise.
3- Malted bread Flour
Malted flour is also known as Granary flour (which is a trademark name of Hovis), contains malted and whole grains and usually some added ingredients such as sugar for extra flavor. 
Malted flour gives the bread a nutty texture which is extra flavorsome.
Hovis Granary flour is available to buy in some supermarkets, however at the time of writing it's not widely available online other than via a supermarket online shop.
What can you use malted bread flour for?
Tin or shaped loaves.
Bread rolls
Add seeds to make a seeded malt loaf.
Recommended Malted Bread Flour
Hovis Granary Flour – The original and best for the perfect granary loaf or rolls, available in most supermarkets.
Doves farm organic malthouse bread flour – This flour produces a really tasty loaf with a great texture. It contains a blend of wheat and barley flour with added malted wheat flakes.
TIP: Not sure if you have all the necessary bread baking equipment at home? Check out my recommended picks below (Amazon links):
4- Rye Flour For Bread Making
Rye bread is one of the healthier types of bread you can eat, it's full of nutrients and fiber and is also thought to have less impact on blood sugar levels than other bread.
Not only is rye bread good for you, but it's really tasty too.  
What can you use rye bread flour for?
Rye breads
Rye sourdough and sour dough starters
Pumpernickel bread
Recommended rye bread flour
Shipton Mill Organic Rye flour – Shipton Mill has an excellent range of Organic rye flour from light rye flour to dark depending on the results you're looking for. 
You can also buy chopped rye for a nutty texture – this is great for mixing in with the base rye flour or other flours.
5 – Spelt Flour for Bread Making
Spelt flour is made from the ancient Spelt wheat grain. It's available in wholemeal and white versions, the wholemeal being particularly nutty and sweet in flavor. 
Spelt flour is said to contain greater nutrients and it's an excellent flour for bread making.
What can you use spelt bread flour for?
Use brown or white Spelt flour to replace normal wheat flour.
Seeded bread recipes.
Bread rolls.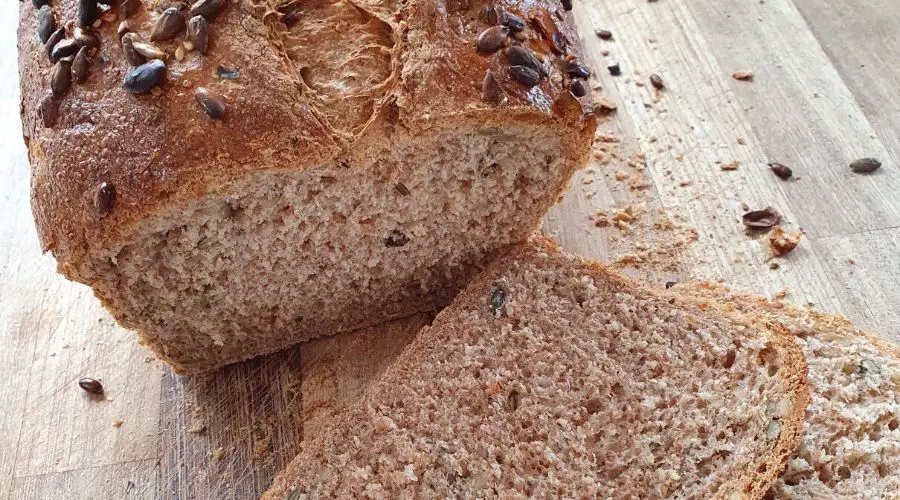 Recommended Spelt bread flour
The Doves Farm Spelt Range (wholemeal or white) is particularly nice. 
You can sometimes find Doves spelt flour in Tesco or you can buy it online directly from Doves Farm.
I use the wholemeal version in my Seeded Spelt Bread Recipe.
6 – Gluten-Free Flour for Bread Making
Most bread flours are unsuitable if you have a gluten intolerance, in fact, it's the gluten that helps to make the bread rise.
There are alternatives that are gluten-free and are usually made from a blend of natural flour such as rice, tapioca, and potato flour.
Adding seeds or other flavors can help to achieve a nicer tasting gluten-free bread.
Recommended gluten-free white & brown bread flour
Free by Doves farm – This is one of the better gluten-free flours and it's available in various varieties including white, brown, and buckwheat. 
You can buy Doves Gluten-Free Flour at Tesco or directly from Doves Farm shop.
7 – Semolina Flour
Italian Semolina Flour – Semolina flour has a coarse texture and is often used in pizza and pasta making.  
It's good to have if you're a keen bread maker because it creates a very good non-stick surface when you're dealing with wet doughs such as ciabatta.
I recommend San Felice twice milled Semolina Flour which is available to buy from Amazon.
---
Tips on how to buy good bread flour
Avoid Nasty Flour Additives
All white bread flours which are produced in the UK are required to have calcium, iron and two B Vitamins added to them and some also add citric acid (Vitamin C) which increases the rise.
There's also a nastier side to flour additives which is often seen in cheap supermarket flours, which add as bulking agents and bleaching agents.
Where you can, try to buy flours which don't contain additional additives (other than the compulsory ones).
Buying Supermarket Brand Bread Flour
Supermarket bread flour is often a much cheaper alternative to some of the higher-cost artisan alternatives. 
Supermarkets such as Lidl are selling bread flour for under £1 for a 1.5kg bag, meaning you can make a loaf for pence.
Although this can seem very appealing there are a few things to keep in mind when buying flour from a supermarket:
Some flours contain a bleaching agent – check the ingredients for words such as peroxide and avoid.
Choose organic flours – try to go for organic flours if you can because you know there are no nasty chemicals hiding in the flour.
Check the ingredients – all white flour in the UK contains Calcium, Iron and two B vitamins (as required by the Government) and some have Ascorbic Acid (Vitamin C) to aid raising. Be wary of lots of other ingredients other than the basic grain.
The quality of the flour – Milling processes vary from flour to flour, which means results will vary.  Some flours struggle to rise more than others and can produce a dense loaf. 
The best thing to do with supermarket flour is to test it and see if you're happy with the results.  
Having used many flours from good producers I can tell the difference when the flour is not so good. If you find one you really like then stick with it.
---
How to store bread flour if buying in bulk
Many of the bread flours I have recommended on this page are also available to buy in bulk bags or come in packs of five.
This is because it generally works out cheaper per loaf and saves on postage.  
If you make bread all of the time, then storage probably won't be too much of a problem.
But either way, storing the flour properly will prolong its freshness and prevent flour mites from getting into it. If you want to find out more about dealing with flour mites, you might find the article below useful:
How to get rid of flour mites and weevils
For bulk flour bags, I recommend splitting the flour down into smaller airtight containers once the bulk bag is opened. 
Store the flour in a cool dark place and keep a note of the use-by date.
You may want to consider getting some storage containers in which you can keep your flour with labels so you know what it is – Amazon has a wide range of airtight containers suitable for flour.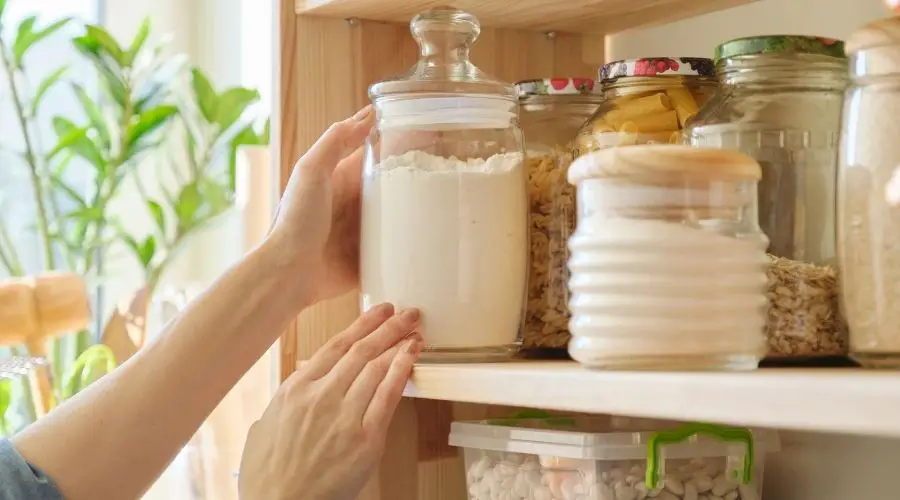 ---
UK bread flour online directory
Here are some useful links for some of the best UK bread flour producers who sell flour online along with links to Amazon bread flour pages.
Please note, at the time of writing this article some types of flour are out of stock, so you may need to shop around between producers to find what you need.
Good Bread flour producers who sell bread flour online:
Amazon also stocks a number of bread flour brands and bulk buy offers, the links below will take you directly to the relevant Amazon pages:
Shop Heygates bread flour at Amazon
Shop Wrights Bread Flour at Amazon
Shop Marriages Bread Flour at Amazon
Shop Doves Farm Bread Flour at Amazon
Shop Matthews Cotswold Flour at Amazon
Good bread flour available in UK supermarkets:
Supermarket
Recommended flours stocked
Tesco
Doves Farm
Matthews Cotswold Flour
Hovis Granary Flour
Sainsbury's
Doves Farm
Wrights flour mixes
(for bread makers)
Occado
Doves Farm
Wrights flour mixes
(for bread makers)
Marriages
Hovis Granary Flour
Asda
Hovis Granary Flour
Stores in the UK and available flours
---
Summary
I hope this article has helped you to choose a bread flour that's right for you.
If you've only used supermarket flours before, you will really notice the difference if you change to an artisan producer – so give them a try!
You might also like this related article…