Ciabatta is a traditional Italian Bread which is made with a slightly different technique so that air bubbles stay in the bread to give it a light texture.
I've put together this easy ciabatta recipe which doesn't need much handling if you have a dough hook. 
The dough is much wetter than a standard loaf dough, so I recommend making this bread with a dough hook. 
It is possible to knead the dough by hand, however be prepared to get messy hands! See my tip below if you're kneading by hand.  
Our method keeps things simple and the finished results are well worth the extra raising time.  
These rustic style breads are very versatile, great for barbecues, summer salads, sandwiches and the best ever homemade garlic bread.  
You'll need a large baking tray or sheet, I'd also recommend using a dough scraper if you have one and a dough hook with a mixer. Find out more about bread-making equipment here.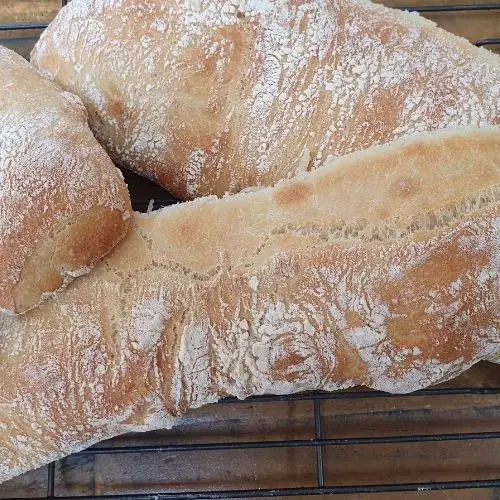 Easy Ciabatta Bread Recipe
Ciabatta is an Italian bread with a light texture due to the air bubbles which form in the dough and is perfect for sharing.
Equipment
Large baking tray (or 2 smaller ones)

Mixer with a dough hook attachment (recommended)

Dough scraper

Large mixing bowl
Instructions 
Stage 1 – make the dough
Weigh the flour into a large bowl or mixer bowl.

Add the yeast and salt to the flour, keeping them separate on either side.

Measure the warm water & olive oil into a jug. 

Make a well in the flour, add the water & oil mix and bring together until all ingredients are combined.

Knead the mixture for 10 minutes using a dough hook or 12 minutes by hand (see tip below if kneading by hand).

Place the dough in a large oiled bowl and cover with cling film or a cloth.

Let the dough rise for at least 2 hours until its around 3 times its original size and bubbly.
Stage 2 – Shape the bread
Once risen cover your surface with plenty of flour.

Gently tip the dough out onto the surface using a dough scraper, handling as little as possible to retain the air bubbles and sprinkle plenty of four over the top.

Using the side of your hands, carefully push the dough into a rough rectangular shape. 

Divide the dough up into 2, 4 or 8 depending on how big you want your loaves/rolls to be.

Carefully pick up each piece of dough holding an end with each hand and place it onto an oiled baking tray, leaving space between each one.
Stage 3 – bake the bread
Preheat the oven to 230°C/450°F

Leave to rise again on the tray for another 15 minutes.

Bake for around 20-25 minutes until golden brown and then leave on a wire rack to cool.
Nutrition
Sodium:
729
mg
Calcium:
17
mg
Vitamin A:
20
IU
Sugar:
1
g
Fiber:
2
g
Potassium:
94
mg
Calories:
312
kcal
Saturated Fat:
1
g
Fat:
2
g
Protein:
11
g
Carbohydrates:
61
g
Iron:
1
mg
TIP: Not sure if you have all the necessary bread baking equipment at home? Check out my recommended picks below (Amazon links):
Can you make ciabatta bread without a dough hook?
It's certainly possible to make ciabatta dough without a dough hook, but it's quite messy to deal with due to the high water content in the dough mix.
The best way I have found to make kneading more manageable is by kneading it within the bowl using a stretching and kneading action with your hands. 
This will take around 12 minutes and is ready once you have a smooth, glossy and stretchy consistency.
You might also like…
You might also find the following article about ciabatta bread helpful: