Making organic bread at home is a good way to ensure your bread is completely organic and free from chemicals used for growing crops along with any nasty additives which are sometimes added to flour.
As long as you source the right ingredients for your dough you can make tasty, fresh bread which is completely organic in your own home.
For bread to be truly organic it needs to be made using natural ingredients which have not been in contact with pesticides, fertilizers, growth regulators and are not genetically modified,
If an ingredient is marked as 'Organic' the maker has to comply with the rules and regulations involved being allowed to display the word organic on their packaging.
There are lots of good organic flours available online and some can now be bought in local supermarkets, in this article I'll show you where you can buy the best organic flour and yeast to make homemade bread, along with an easy organic bread recipe.
The recipe below can be adapted for various organic flour types including white flour, wholemeal and spelt flour, you can also make it using either fresh or dried yeast – find out more how to adapt it below the recipe.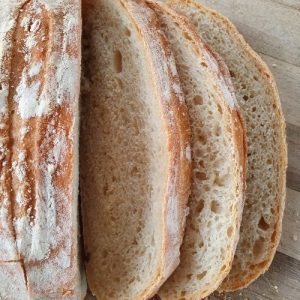 Homemade Organic Bread Recipe
How to make homemade bread using completely organic bread ingredients
Equipment
Large mixing bowl

Dough scraper (optional)

2lb Loaf tin or Baking sheet

Parchment Paper (optional)

Cloth for covering dough
Ingredients  
500

g

Strong Organic Bread Flour

White, wholemeal or spelt

10

g

Organic dried yeast

or 20g fresh yeast – see notes below

10

g

Sea Salt

Good quality

30

g

Organic butter

Softened

300

ml

Tepid water

You may need more depending on flour type – see notes below
Instructions 
Measure the flour, dried yeast and salt into the large mixing bowl (keeping the salt and yeast separate).

Make a well in the flour and add the butter and water.

Bring the dough together using your hand or a dough scraper until it forms a soft dough (or mix gently using a dough hook and stand mixer). Add a little more water if the dough looks too dry.

Lightly flour or oil a work surface and knead the dough for around 10-15 minutes (or 8-10 minutes using a dough hook and stand mixer).

Once the dough has been kneaded, place it back into the mixing bowl, cover and leave it to rise for at least an hour or until the dough has at least doubled in size.

Remove the dough from the bowl and flatten a bit to remove any large air bubbles.

Roll up and shape the dough either into an oblong shape if you're using a bread tin or into a round or bloomer chape if you're making a free form loaf.

Place the dough either onto a baking sheet or tray lined with a sheet of baking parchment or a lighlty greased and floured loaf tin so it doesn't stick

Cover and leave the dough to prove (rise again) for around an hour or until the dough has doubled in size.

Preheat an oven to 230°C or 446°F.

Slash the dough with a sharp serrated knife and sprinkle with flour (optional).

Bake the loaf for around 25 minutes until golden brown and it makes a hollow sound when you knock the base with your nuckle.

Place the loaf onto a wire rack and leave until it's completley cooled.
Nutrition
Sodium:
343
mg
Calcium:
6
mg
Vitamin A:
62
IU
Sugar:
1
g
Fiber:
1
g
Potassium:
50
mg
Cholesterol:
5
mg
Calories:
171
kcal
Saturated Fat:
1
g
Fat:
3
g
Protein:
5
g
Carbohydrates:
31
g
Iron:
1
mg
TIP: Not sure if you have all the necessary bread baking equipment at home? Check out my recommended picks below (Amazon links):
---
Fresh organic yeast or organic dried yeast
You can buy both dried and fresh organic yeast online, depending on what you prefer to use.
If you're a beginner bread maker I would recommend starting with a fast action dried yeast rather than the fresh version.
If you choose to use fresh yeast a good way to activate it is by stirring in a teaspoon of sugar. Many supermarkets stock organic sugar if you're looking to keep your bread truly organic.
15g of Fresh Organic yeast will be enough for this recipe when using 500g of bread flour.
Organic yeast will be slower to rise than the fast action dried version but it does help to create a better-flavoured bread and is good to experiment with.
For more information about the differences between fresh and dried yeast, take a look at my post via the link below: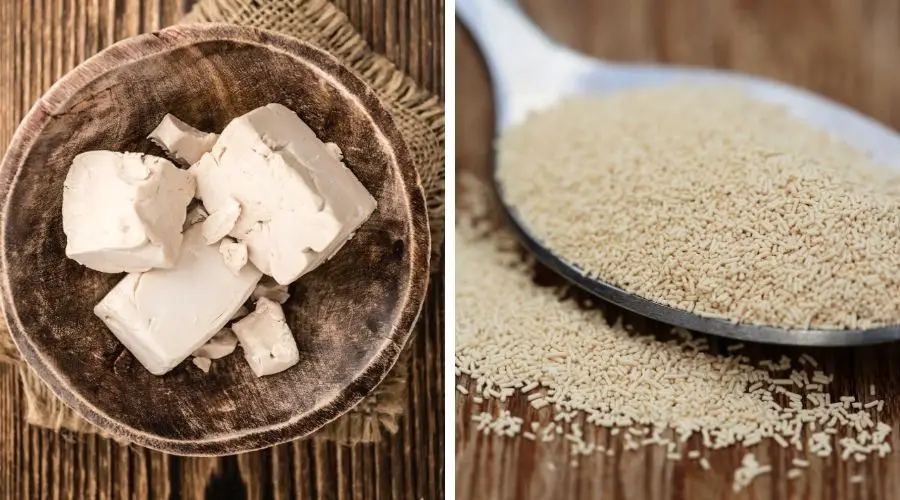 ---
How much water should you use for organic flour?
As each bread flour is different and contains different levels of protein the amount of water it absorbs will vary. For this recipe, I've said to use 300ml of water, but this is an absolute minimum.
Wholemeal flour and very strong flour (over 13% protein) will absorb more water (up to 350/370ml) than some white flour white flours which contain around 12-13% protein.
If you don't regularly use the flour brand, then check the packet for the recommended water amount per 500g of flour.
You may still need a little more as the packet recipes are sometimes air on the side of caution when it comes to water measurements.
It's better to have a sticker, wetter dough than one which is tight and dry because this could lead to a dense loaf.
---
The best organic bread flour & where to buy
Below are some of the best organic bread flour brands that will produce good results. Please note, at the time of writing many brands of bread flour are out of stock, I've added a few links in case you need to shop around.
Some links on this page are Amazon affiliate links, check my privacy policy for more info.
Doves Farm Organic Bread Flour
Available directly from Doves Farm here (UK)
Buy Doves Farm Flour Price at Amazon (Worldwide)
Marriages Organic Bread Flour
Various types available from Amazon (Worldwide)
Shipton Mill Organic Bread Flour – various varieties
Available directly from Shipton Mill (UK)
---
Where to buy organic yeast
I use and recommend Bioreal Organic yeast, which is available in fresh or dried form and can be bought online via the following links:
Buy Bioreal fresh or dried yeast from Amazon (Wordwide)
Buy Bioreal online from Bakerybits (UK)
---
You might also like…
I hope you enjoy making organic bread, for more tips on making homemade bread you might find the following post helpful:
Bread Making Tips For Beginners –  Everything You Need to Know