If you always use a mixer or a bread machine to make bread it can be easy to stick to that method without ever learning to make bread by hand.
You may be put off trying to make bread by hand because it seems too complicated, too messy or too time-consuming when actually it can be pretty rewarding.
Making bread by hand is something we as humans have been doing for thousands of years and it's only very recently that we've started introducing the machine element in home baking.
I don't want to come across as preachy about not using machines, because I do use a stand mixer sometimes and I also make bread by hand, it really depends on how busy I am and what I'm making.
The stand mixer can be a great help for kneading when you don't have much time and you need to multitask also the bread maker has it's place if you want homemade bread without the prep time.
It's not cheating, it's just your choice, but knowing how to make bread by hand is a great skill to have and you'll always have your hands as a back up if the machine stops working!
In this post I want to show you is how easy making bread by hand can be if you want to have a go without the help of a mixer or bread machine along with tips on how you can do the bits the machine would normally do with minimal fuss.
---
Making Bread By Hand – Step by Step
The recipe below is an easy way to start making bread by hand, I've included a video to show you how to mix and knead bread and you may also find it helpful to read Bread Making Tips For Beginners –  Everything You Need to Know.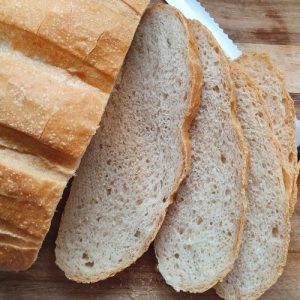 Handmade white bread
How to make bread by hand without a mixer or bread machine
Equipment
Large mixing bowl

Dough scraper

Baking sheet

Parchment paper to line tin
Instructions 
Weigh the flour into a large mixing bowl

Add the salt and yeast keeping them separate in the bowl

Make a well in the flour and add the softened butter

Add the water to the well in the flour

Using your hand, gently bring the dry ingredients into the wet and work around the bowl to incorporate the mixture (see video)

Once the dough is formed, scrape it out of the bowl and onto a lightly oiled surface

Knead the dough by hand for around ten minutes until the dough is glossy and passes the windowpane test (see video)

Once kneaded, move the dough back to the mixing bowl, cover and leave to rise until its at least doubled in size.
Shape and prove the dough
Knock back and shape the dough – see the video below on how to do this.

Place the dough on a baking sheet lined with parchment paper and leave to prove (Proof) again for one hour or until doubled in size.

When the dough has nearly completed it's second prove, preheat the oven to 230°C/446°F

Once the dough has proved (proofed), slash it on the top using a serrated knife or bread lame 3 or 4 times to help the bread to expand as it bakes in the oven (see link below).

Add steam to the oven (optional – see below for full instructions)

Bake for around 25 to 30 minutes and until the loaf is crusty and a rich golden brown.

Cool on a wire rack and then enjoy!
Nutrition
Sodium:
343
mg
Calcium:
6
mg
Vitamin A:
62
IU
Sugar:
1
g
Fiber:
1
g
Potassium:
47
mg
Cholesterol:
5
mg
Calories:
170
kcal
Saturated Fat:
1
g
Fat:
3
g
Protein:
5
g
Carbohydrates:
30
g
Iron:
1
mg
TIP: Not sure if you have all the necessary bread baking equipment at home? Check out my recommended picks below (Amazon links):
Tips For Getting Even Better Results From Handmade Bread
When you make homemade bread the right way it's going to be amazing, but you can do a few more things to take it up to the next level.
The two things which I just want to expand on from the recipe above are slashing dough and creating steam.
If you can incorporate these techniques into your recipe, you will see the difference when your bread comes out of the oven.
Slash the Dough Before It Goes in the Oven
Slashing dough isn't just decorative, it helps the dough to expand further when it bakes in the oven and helps to create texture to the crust.
I had some disastrous results from slashing when I first started using this technique which resulted in collapsed dough because I'd ripped all the air out of the dough.
So over time I've learned some techniques which helped me get good results every time, these are:
Always use a sharp serrated knife or a good bread lame to prevent the dough snagging and collapsing.
Don't press your hands on the dough, just lightly place your hand on the dough when you slice.
Be confident and quick when you slice.
You don't need to go too deep, a maximum of around 1/2 cm is fine.
For a visual guide, have a look at my YouTube video here on how to slash dough.
Create Steam in the Oven
Creating steam in the oven helps the dough to expand as it bakes along and will result in a crispy almost bubbly looking crust texture.
I've tested a few different ways of creating steam, but the best way by far is to place a deep baking tray (ideally the grill tray which slides between the racks) in the oven before pre-heating and once the oven has heated up, carefully pour boiling water into the tray.
This will create instant steam, so place the bread in the oven straight away.
It's really important to wear oven gloves and to stand back from the steam because it will rise up quite aggressively as soon as the water hits the tray.
---
You might also like…
Why not have a try at making your own homemade bread by hand without a machine, it's a really relaxing hobby and you get something tasty at the end too.
If you're looking for more tips and techniques, you might find it helpful to read the following posts:
Bread making tips and techniques