I've just covered using steam to bake bread in the oven, so I just wanted to do a quick post on spraying water on bread before baking along with the benefits of spraying with water and how you can use this process throughout the dough making process. So, what are the benefits of spraying dough with water before it goes in the oven?
Spraying water on bread dough before baking helps to keep the top of the dough moist during the first few minutes of baking which in turn helps the dough skin to be more flexible and to expand as it starts to cook. Added moisture also helps to create a crispier crust, especially if used in conjunction with steam baking.
Read on to find out more about other ways a water spray can be used in bread making and how it can help to improve the outcome of your bake.
What does spraying water on bread dough do?
Spraying dough before its baked in the oven can help in the following ways:
As above, spraying water over the dough just before the bread is baked will create a flexible crust which expands in the oven.
Water and steam help to produce bread with a nice sheen and a bubbly effect where the water evaporates on the bread.
A crust which is exposed to water when it's first baked will be thicker and crispier than bread which hasn't been exposed to water in the oven.
Using a water spray and steam to bake bread
Although spraying dough with water is good for creating more flexibility in the outer skin, it's not actually a good way to generate steam in inside the oven.
If you're looking to achieve a crispy and golden crust I would recommend using steam as well as a spray on top of the dough for maximum effects.
Steam works in a similar way to a water spray in that it helps to achieve a good final rise inside the oven, but on a bigger scale if it's done in the right way.
I've written a full post on using steam to bake bread which you might find helpful, click via the link below:
What does steam do to bread in the oven
The image below shows a close up of a loaf which has been baked in the oven using a water spray and steam. As you can see, the dough looks crispy and has a bubbly effect along with a shiny golden colour.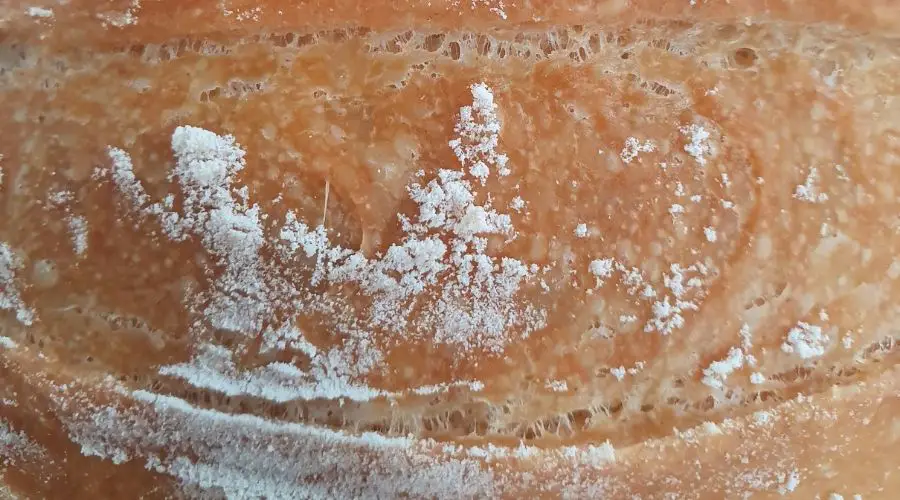 ---
What spray bottle can you use for baking?
You can use any clean spray bottle to spray water onto the dough, providing they're clean and have never been used to contain anything toxic I like these multipurpose glass sprays which are available from Amazon (Amazon Affiliate link see privacy policy for more info).
---
Using a water spray to stop dough drying out while rising or proving
Having a water spray is also useful for other bread-making tasks, including:
Spraying the top of the dough before leaving it to rise and or prove if it's a hot day and there's a chance the top of the dough could start drying out.
Spraying your hands with a little water to stop the sticky dough from sticking to your fingers.
Using a light spray of water instead of an egg wash to help seeds stick to the dough.
If you're shaping a dough which has a high liquid content and you don't want to add more flour to stop it sticking, then a water spray can be a really good way to stop the dough sticking to your hands.
TIP: Not sure if you have all the necessary bread baking equipment at home? Check out my recommended picks below (Amazon links):
---
Should you spray sourdough with water before baking?
Spraying sourdough with water and using steam is a really good way to bake and finish sourdough so that it looks the best it possibly can along with a tasty and crispy crust.
The artisan process of sourdough is a slow one, but very rewarding, so getting the very best finish as the bread bakes is really worth the extra little bit of effort.
---
You might also like…
I hope this article has helped you find out more about the benefits of spraying dough before it's baked. You might also find the following post helpful:
Bread Making Tips For Beginners –  Everything You Need to Know