Banana bread is one of the most popular types of bread at the moment.  In most cases it's actually more of a cake made in the shape of a loaf than a bread.  
You can make banana bread using yeast, but if you want to achieve ultimate moistness and flavor, the cake version is the best.
This ultimate moist banana bread recipe is all about moistness and flavour.  With added spices, and brown sugar to great a rich golden colour.  This banana bread really stands out from the crowd and best of all it's quick and easy to make.  It smells so good when it's baking that it's difficult waiting for it to cool down before eating any.
In fact, it does go really well with a scoop of vanilla or caramel ice-cream while still slightly warm.
Banana bread is a great way to use over-ripe banana's – the riper the better! Find out more about ripe banana's and other tips further on in this post.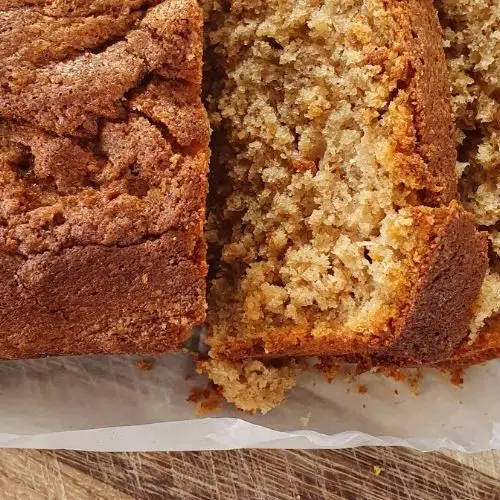 Ultimate moist banana bread
Try this delicious and moist banana bread recipe, with added spices for extra warmth and flavour.
Equipment
2lb (1KG) Loaf/bread tin

Hand or stand mixer

Parchment paper or a cake tin liner

Large mixing bowl

Spatula or bread scraper
Ingredients  
4

Bananas

Very ripe

125

g

Caster Sugar

100

g

Soft brown sugar

140

g

Butter

Softened

2

Eggs

1

tsp

Ground Cinnamon

1

tsp

Mixed spice

250

g

Self raising flour

2

tbsp

Milk
Instructions 
Preheat the oven to 170°C/340°F.

Grease the loaf tin with a little butter and then line the tin with baking parchment or a tin liner (no greasing required).

Add the caster sugar, soft brown sugar and butter to a large mixing bowl.

Cream the butter and sugar together until light and fluffy. 

Peel the bananas and add one at a time straight into the sugar and butter mixture while continuing to beat the mixture.  If they're very ripe they will easily mash into the mix with no need to pre-mash.

Weigh the flour and spices into a separate bowl (there's no need to sift the flour).

Add an egg to the creamed sugar, butter and banana mix along with a table spoon of the flour mix and beat, once incorporated add the other egg with another spoon of flour to stop the mixture curdling.

Once the egg is incorporated into the mix add the rest of the flour and spices along with the milk and beat for 30 seconds or so until the mixture is well combined.

Scrape the mix into the prepared loaf tin using a spatula or bread scraper to get all the mix out of the bowl.

Bake the bread for an hour to an hour and 10 minutes, check if the bread is ready by inserting a skewer or knife into the middle and if it comes out clean it's ready. (See below for more information on cooking temperature).

Once the bread has been out of the oven for a few minutes, carefully tip it out of the tin, cool the bread on a wire rack and enjoy!
Nutrition
Sodium:
118
mg
Calcium:
29
mg
Vitamin C:
4
mg
Vitamin A:
428
IU
Sugar:
28
g
Fiber:
2
g
Potassium:
223
mg
Cholesterol:
63
mg
Calories:
335
kcal
Saturated Fat:
8
g
Fat:
13
g
Protein:
5
g
Carbohydrates:
52
g
Iron:
1
mg
TIP: Not sure if you have all the necessary bread baking equipment at home? Check out my recommended picks below (Amazon links):
---
Try the ultimate Moist banana bread recipe with nuts
Add extra texture and flavor to banana bread by stirring in 150g of lightly chopped nuts to the finished mixture before you pour it into the loaf tin.
What nuts can you put in banana bread?
The best nuts to use in banana bread for texture and flavor are walnuts or pecans.  
By using lightly chopped nuts you can retain larger chunks within the bread, just place the nuts on a chopping board and chop them all together a few times using a rocking motion.  
You won't need to increase the cooking time if you add nuts to the recipe.
---
Everything you need to know about banana bread
If you love banana bread and you want to find out more about how to get perfect results from you bake, read on to find out everything you need to know about how to make the best banana bread!
How ripe should bananas be for banana bread?
There isn't really too ripe when it comes to bananas in banana bread, as log as they're not moldy or turning too black, you can use banana's which are in the process of turning very brown to black.
Don't worry about them going brown, because when they're like this the banana flavor you get from the bread is much more intense, they're more sugary and have moister texture.
So, the browner they go, the better your banana bread will be.  
Here's an image of the bananas I used for this recipe, as you can see, there isn't much yellow left and they're mainly dark brown…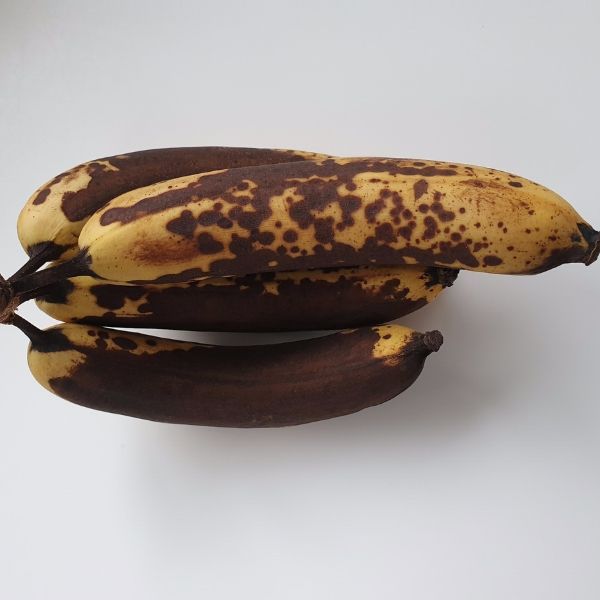 How do you get a banana to ripen quickly?
There are some tips out there on ripening banana's in a microwave, but the best way to ripen a banana is naturally over time. This is because the natural flavors and sweetness of a very ripe banana just can't be recreated unless it happens naturally.
You can speed the ripening process up a bit by leaving the bananas in a warm sunny place such as a windowsill which gets a lot of sun.
Keeping the bananas attached to each other also helps, because they make each other go brown.
If you bake banana bread regularly, you could have buy and ripen the second batch before you make the first bread so you always have brown bananas available.
If you're lucky you might find bananas past their best in the bargain section of your local shop or supermarket.
Banana bread oven temperature
For this recipe I recommend using quite a low heat (170°C/340°F), this means the bread takes quite a long time to cook (over an hour), but it has a nice golden finish on top.
Because of the amount of sugar and natural sugar in the bananas, if you have the oven too high then the top can burn and go too dark before the cake is cooked in the centre. 
All ovens are different and some cook more evenly than others, so if your bread does look like its starting to burn or it's going too brown place a sheet of tin foil over the top of the tin without taking the bread & turn the oven down a touch.
Is banana bread healthy
The sad answer to this question is no! Although bananas are very high in Vitamin B6, Potassium, Vitamin C and they're a good source of fibre, they're also very high in natural sugars particularly when they're very ripe.
When you add the natural sugars to the sugar in the banana bread this means a lot of sugar, oh and the fat in the butter!
So, unfortunately, banana bread isn't healthy, but like everything, its all fine in moderation and there are worse things you could be eating:)
For more information on this topic you might find the following post helpful:
Is banana bread good if you're on a diet?
You might also like…
I hope you enjoy giving this banana bread recipe, it's great on its own, but why not try a few serving ideas to take your tasty treat up to the next level? Find out more in the article below:
What is banana bread eaten with?
Or try making my Fruit Tea Bread version of banana bread, for a moist yet rich version of the original: