Just to give you a little bit of background, before we get to my Granary bread recipe:
Granary is actually a trademark of the Hovis brand, rather than an actual bread type or flavor. 
Granary flour contains various ingredients, including malted flour, wheat flakes and even caramelised sugar – which is probably why it tastes so good!
If you want to know more about what goes into Granary Flour you can see all the Hovis Granary flour ingredients here.
I have used Hovis Granary flour for this Granary bread recipe, which is available in most supermarkets. Don't worry if you can't get Hovis, an alternative 'malted' flour will work just as well.
Malted bread is extra tasty and goes really well with a prawn cocktail or cold meats. 
The flour does tend to absorb more water than a white flour, and it continues to absorb throughout the kneading process, so a little extra water will be required. 
Granary dough also takes a little bit more kneading and I would recommend extra raising time too, for the best results.
For this reason, I prefer to make this dough using the dough hook so I can make a wetter mix, but if you're making it by hand you can decrease the water amount to make it a bit more manageable.
The butter in this recipe will help create a lovely soft loaf and it will also help it to last a bit longer.
For this recipe, you will need a loaf tin and I'd recommend using a dough scraper if you have one.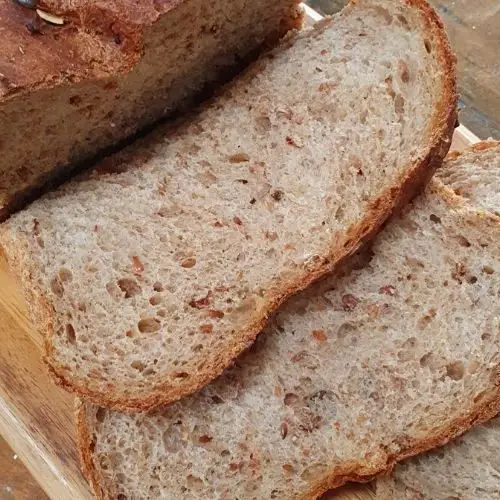 Granary bread recipe
Try this tasty Granary bread recipe with added seeds for extra crunch
Equipment
Mixer with bread hook (optional)

Large mixing bowl

2lb (1kg) Bread loaf tin or baking tray

Dough scraper
Ingredients  
500

g

Hovis Granary bread flour

or malted flour

7

g

Dried yeast

10

g

Sea salt

Maldon (if you have it)

30

g

Butter

softened

300

ml

Warm water

to 320ml

70

g

Mixed seeds

Optional

1

Egg

beaten (if using seeds)
Instructions 
Stage 1 – Make the dough
Weigh the flour into a large bowl or mixer the bowl if you're using a dough hook.

Add the yeast and salt to the flour, keeping them separate on either side of the bowl.

Measure the water into a jug (you may not need all of the water, start with 300ml and add a little more if the dough looks too dry).

Make a well in the flour, add the water and butter and bring together.

Knead the mixture by hand for around 15 minutes on a floured surface or for 12 minutes using a dough hook.

Put the dough back into the large bowl and cover with clingfilm or a damp tea towel.

Let the dough rise until it's doubled in size – for around one and a half to two hours.
Stage 2 – knock back and prove the dough
Scrape the dough out of the bowl onto an oiled surface. 

Gently knock the air bubbles out of the dough using your fists.

Shape the dough so it fits into the bread tin, making sure any seams or creases are facing down. Divide by 2 if you're using small 1lb tins.

Cover and leave for around another hour, until the bread has doubled in size (about an hour). 
Stage 3 – Bake the bread
Preheat the oven to 220°C/430°F and lightly oil the bread tin.

Slash the top of the loaf with a sharp serrated knife

If you're using seeds, gently brush some beaten egg on the top of the loaf and sprinkle over the seeds.

Place the bread into the preheated oven.

Bake for around 30 minutes until golden brown and then turn out onto a wire rack to cool.

Test the bread is cooked by knocking on the base – you should hear a hollow sound
Nutrition
Sodium:
353
mg
Calcium:
20
mg
Vitamin C:
1
mg
Vitamin A:
90
IU
Sugar:
1
g
Fiber:
3
g
Potassium:
151
mg
Cholesterol:
19
mg
Calories:
208
kcal
Saturated Fat:
2
g
Fat:
6
g
Protein:
7
g
Carbohydrates:
34
g
Iron:
3
mg
TIP: Not sure if you have all the necessary bread baking equipment at home? Check out my recommended picks below (Amazon links):
---
Reshape your loaf
Instead of using a bread tin, shape your dough into a round at stage 2 following the same method and bake on a baking sheet.
Slash a cross shape (1/2cm deep) into the dough using a serrated bread knife before it goes into the oven.
---
---
You might also like…
If you enjoyed making a granary loaf, I'd also recommend trying the following recipe, using wholemeal Spelt flour:
For more information on where you can buy Granary or malted bread flour, click the link to my bread flour directory beow: