This homemade breadsticks with camembert recipe works great as an indulgent weekend lunch or as a dish to impress your guests with at parties.
With a cranberry and caramelised onion topping to add extra flavour to the creamy cheese.
Below the recipe are some additional tips and ideas on other ways you can serve breadsticks and how to get the best results from your bake.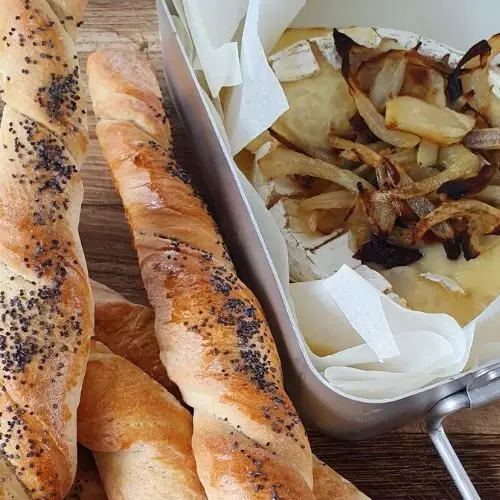 Homemade breadsticks and baked Camembert with cranberry & caramelised onions
This recipe is perfect for parties or just as a sharing lunch. Homemade breadsticks are quick and easy to make and also work well with a chocolate dip.
Equipment
Mixer with a dough hook (optional)

Large mixing bowl

Dough scraper

Baking trays

Small ovenproof dish or tin

Baking/parchment paper

Pastry brush

Cheese baker dish (optional)
Ingredients  
For the Camembert
1

Camembert cheese

large

1

tbsp

Cranberry sauce

1

tbsp

Olive oil

1

Onion

medium (red or white)
Instructions 
Weigh the flour, salt and yeast into a large mixing bowl and make a well in the centre

Pour the olive oil and the warm water into the well

Bring the ingredients together to form a dough either by hand or using the dough hook on a slow speed.

Knead the dough for around 12 minutes by hand or for 10 minutes using the dough hook.

Place the dough into a large bowl, cover with cling film or a damp tea towel and leave in a warm place to rise for about an hour or until doubled in size.

Preheat the oven to 220°C/430°F

Once the dough has risen, scrape it out of the bowl using a dough scraper onto an oiled surface.

With the side of your hands shape the dough into a rectangular shape and flatten the dough into a rectangle which is about ½CM thick.

Line a large baking tray (or 2 smaller ones) with a sheet of baking paper.

Using a knife or the dough scraper cut the dough into 2CM strips across the shorter side.

Take one strip and leaving it on the work surface, gently twist one end to form a loose spiral shape, then do the same at the other end until the spirals meet in the midde and place onto the lined baking tray.

Repeat the previous step with all of the dough strips.

Gently eggwash the top of each stick – this will create a golden colour as they bake.

If you're using poppy seeds, take a pinch of seeds and sprinkle across each stick – you can also do every other like I did to create a mixture of plain and poppy seed breadsticks.

Bake the sticks in the preheated oven for about 15-20 minutes or until golden brown and crispy on the outside, then leave to cool on a wire rack.
Make the baked camembert
Turn the oven down to 180°C.

Heat up the oil over a gentle heat in a small pan, slice the onion and add it to the oil and gently fry until the onions become soft and caramelised.

Take the cheese out of any outer packaging and score the top so that the flavours can get inside.

Place the cheese in a small ovenproof dish or tin lined with baking paper, which can catch any cheese which leaks out (see tips below).

Spoon the cranberry sauce and the onions over the top of the cheese and bake for around 15 minutes until the cheese has melted inside.

Serve the cheese straight away while it's still runny with the breadsticks and enjoy!
Notes
Camembert generally comes in 250g portions, but you can get larger cheeses especially around Christmas time.  If you're serving 6 people and you can only get the smaller 250g cheeses I would recommend using two cheeses for this recipe.
Nutrition
Sodium:
1079
mg
Calcium:
218
mg
Vitamin C:
1
mg
Vitamin A:
368
IU
Sugar:
2
g
Fiber:
3
g
Potassium:
226
mg
Cholesterol:
54
mg
Calories:
466
kcal
Saturated Fat:
6
g
Fat:
14
g
Protein:
20
g
Carbohydrates:
65
g
Iron:
1
mg
TIP: Not sure if you have all the necessary bread baking equipment at home? Check out my recommended picks below (Amazon links):
Find out more about breadsticks and camembert
Here are some tips and ideas on how you can get the best results from this recipe, along with other ways you can use breadsticks and camembert.
Should you leave camembert in the box to bake?
Some makes of camembert cheese come in their own little wooden box which can be used as an attractive way to serve the cheese.
You can also bake the cheese inside the box, but you'll need to do the following if you choose to bake it this way:
Remove any plastic packaging from the cheese.
If you're adding a topping, place the lid underneath the bottom of the box.
The boxes are usually stapled together and will leak if you've scored the cheese and it leaks out.  To stop this happening, line the box with some greaseproof paper. 
Another good way to bake the cheese is by using a baker dish, you can buy these from Amazon and they're the perfect way to bake camembert as they stop the cheese from spreading out.
More baked camembert topping ideas
Other ingredients you can use to make exciting toppings for camembert:
Insert a few sprigs of rosemary with some slices of fresh garlic before baking.
Cut 2 rashers of bacon into small strips and pan fry until crispy, use with cranberry & caramelised onion. 
Pile on some lightly chopped walnuts and drizzle honey over the top.
What else can you do with breadsticks?
Breadsticks are best used to dip into something yummy, such as garlic dip or hummus.
They're also really nice dipped into a chocolate spread such as Nutella – this is my kids favourite. 
Try topping with different seeds
Other seeds work well with homemade breadsticks, try using sesame or flax seeds as well as poppy seeds to add more flavour and texture.
---
You might also like…
If you enjoyed making homemade bread sticks, you might also like to try making your own bread rolls, see the full recipe in the link below: