Bread rolls are a good way to develop your home bread-making skills and are a versatile side dish which can be used for sandwiches, burger buns or alongside a stew or soup.
In this post, I'm going to show you step by step how to make, shape and bake soft bread rolls which you can make to impress your friends and family.
I'll also include my step-by-step video and ways that you can use various washes and toppings to achieve different effects depending on how you plan to use the rolls.
So, let's get started with the recipe and then read on to find out more about how you can take a basic soft bread roll to the next level.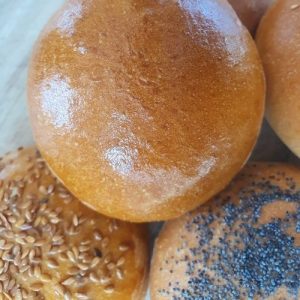 How to make and shape soft bread rolls
Step by step recipe to make soft white bread rolls
Equipment
Large mixing bowl

Dough scraper

Baking trays

Parchment paper

Digital scales

Measuring jug
Instructions 
Weigh the strong white flour into the large mixing bowl

Add the salt and the yeast to the flour, keeping them seperate in the bowl

Make a well in the flour and add the softened butter and honey (optional)

Add the milk and water which should be just tepid and around room temperature

Mix the ingredients together to form a dough and knead for around 10-15 minutes and until the dough becomes strong and glossy (see video to see what this looks like)

Place the dough in the mixing bowl, cover and leave it to rise for at least an hour or until the dough has at least doubled in size
Shaping the rolls
Once the dough has risen fully, scrape it onto a lightly floured surface gently flatten it out to about 1 inch thick and into a rough square shape

Using a dough scraper or knife cut the dough in half and then divide each half into four

Separate each section of dough and roll the dough into a ball shape one by one, tucking the dough underneath itself to form a smooth top and any seams are underneath (see video)

Line the baking tray with a sheet of baking parchment and place the rolls onto the tray leaving space for them to rise (you might need two trays)

Leave the rolls to rest and prove for at least an hour until they've risen up nicely into good sized round rolls

Preheat the oven to 200°C/392°F

You may want to eggwash and or add a seed topping to you rolls at this point (see below for more information)

Bake the bread rolls in the oven until golden brown and until they sound hollow when tapped – don't worry if they seem a bit crispy at this point, they will soften as they cool

Leave the rolls to cool on a wire rack and then serve
Nutrition
Sodium:
515
mg
Calcium:
9
mg
Vitamin A:
94
IU
Sugar:
1
g
Fiber:
2
g
Potassium:
71
mg
Cholesterol:
8
mg
Calories:
258
kcal
Saturated Fat:
2
g
Fat:
4
g
Protein:
8
g
Carbohydrates:
46
g
Iron:
1
mg
TIP: Not sure if you have all the necessary bread baking equipment at home? Check out my recommended picks below (Amazon links):
More Ways to Experiment with This Bread Roll Recipe
Read on to find out more ways you can adapt the basic bread roll recipe by experimenting between crispy and soft rolls, different flour types, egg washing, topping with seeds and how you can get them to stick to the rolls.
---
The Difference Between a Crusty Roll and a Soft Roll
I've experimented with various milk to water ratios and the ratio in this recipe is a good texture which is soft and not dense, because too much milk can produce a heavy roll.
The recipe on this page will produce a soft white roll with a slightly chewy crust. This texture can be achieved by using milk in the recipe along with some butter.
The fat in the butter along with the milk will help to produce a softer texture with a thinner crust which is perfect for a roll which you want to fill and is great for burgers.
The rolls are also baked at a slightly lower temperature than bread would normally be baked at, which helps to prevent the rolls from going too crispy.
They will feel slightly crispy when they're removed from the oven, but don't worry because they will soften up as they cool.
If you are looking to make a crispier roll, you can achieve this by tweaking the process as follows:
Replace the milk in the recipe with the same amount of water (370ml in total)
Reduce the butter to 20g
Up the oven temperature to 220°C/428°F
Spray the rolls with some water before baking and consider adding steam to the oven.
---
What Flour Can You Use for Bread Rolls
You don't just have to use strong white flour to make bread rolls, although it is important that you use strong bread flour (12% or more protein content) to ensure the dough rises. Alternative flour types you could use are:
Strong wholemeal bread flour
Any very strong bread flour such as flour made from Canadian wheat
White or wholemeal spelt flour
Granary or malted bread flour
Keep in mind that if you're using wholemeal flour or a very strong flour with higher protein levels the flour will absorb more liquid, so you may need to up your liquid total to around 350ml.
Flour which contains the wholegrain will also continue to absorb liquid throughout the kneading process so don't worry if it seems sticky to begin with.
---
How to Egg Wash Bread Rolls
Egg washing bread rolls is a great way to add more interest to the look at the roll and will produce a shiny, glossy and golden looking roll.
This effect works well with both sweet and savoury rolls and is really easy to do, here's how you can egg wash a bread roll:
After proving the shaped rolls and when they're ready to go in the oven;
Break an egg into a small cup or bowl and whisk with a fork.
Using a pastry brush, gently brush the top of the roll with the beaten egg taking care not to go too far down the sides as the egg will make the rolls stick and could prevent them from rising in the oven.
Bake as normal following the recipe instructions.
What Do Egg Washed Rolls Look Like?
The image below shows a roll which has been egg washed (on the left) vs a roll with no wash (on the right).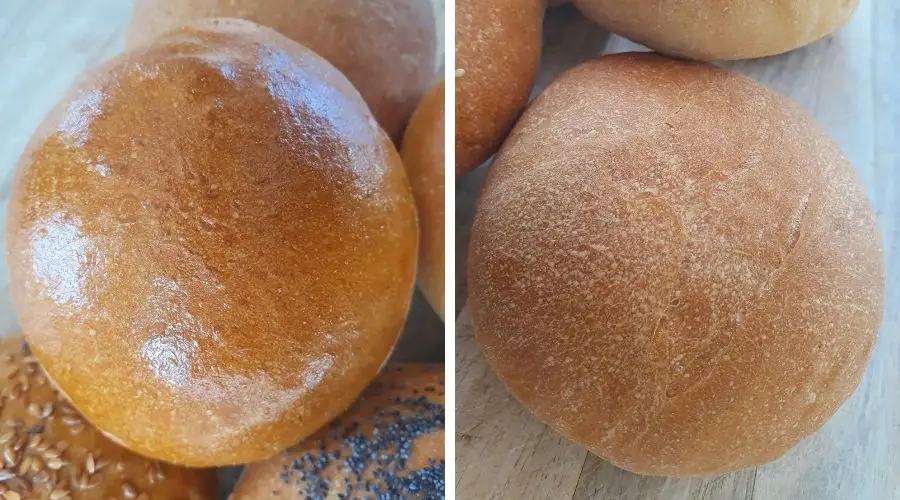 What Can You Use Instead of Egg Wash?
If you don't want to use an egg wash, you can brush the top of the rolls with some full-fat milk instead. The effect won't be as effective as it is with an egg wash but it helps to make the rolls more golden.
Another method you could try is brushing with a little melted butter, but take care not to let it burn in the oven.
---
What Seeds Can You Use On Top of Bread Rolls
The table below shows some ideas of different seeds and other toppings you can use for topping bread rolls and what type of bread roll they work well with:
| | |
| --- | --- |
| Seed/topping type | Works well on |
| Sesame seeds | White burger buns |
| Flax seeds | White or brown burger buns and dinner rolls |
| Poppy seeds | White dinner rolls |
| Pumpkin seeds | Brown or wholemeal dinner or sandwich rolls |
| Mixed seeds | All types of roll |
| Oats | Good for Granary or malted style rolls |
| Almonds | Good for sweet buns along with icing |
The image below shows an example of rolls with added flax seeds with egg wash (left), sesame seeds with milk wash (centre) and poppy seeds with a water wash (right).

How to Get Seeds To Stick to Bread Rolls
As you can see from the image above I've experimented with different ways to stick seeds on the top of bread rolls, here are the results of the best way to stick seeds to the rolls:
Egg wash provides the best glue for all sizes of seeds and creates a glossy look too.
Milk holds seeds well and helps to create a golden look to the roll underneath.
Water also works well for lighter seeds such as sesame and poppy if you don't want to use egg or dairy, but is not so reliable for heavier seeds such as pumpkin.
---
You might also like…
I hope this post has given you some tips on how to make bread rolls more interesting, you might also find the following article helpful: