English Muffins are famously used as the bread part of the breakfast muffin, but they're also great just toasted with some butter and jam as a lighter alternative to thicker bread.
They arrive on our shelves pre-cooked so they can be eaten straight out of the packet, but for best results, they need to be toasted or heated up to soften them up and to enhance flavour.
When you buy English Muffins they're usually very pale in colour and also quite dry. English muffins are usually rolled in semolina flour which adds a crunchy texture to the outside of the muffin when it's heated.
The best way to heat up an English Muffin is to toast it using either a toaster or a grill to brown each side of the muffin to produce a crispier texture along with more flavour which you get from toasting.
I've done some experimenting with heating and toasting English Muffins so I can share the results with each method with you.
Read on to find out more about how to heat English Muffins along with some alternatives if you don't have a toaster or grill and tips on how to get the best results when heating muffins.
---
How to Toast an English Muffin
When you buy English Muffins some are ready-sliced, but if they're not they can be easily sliced with a serrated bread knife or pulled apart using your hands.
Pulling them apart can add to the crispy texture once they're toasted, but it could also lead to the uneven fluffy parts burning as they cook..
Toasting English Muffins Under a Grill
The best way to toast an English Muffin is by placing each half on a grill pan under a grill if you element (usually built into most cookers/ovens), turning them halfway through to toast to the desired colour on each side.
---
Top tip!
I always find that it's best to toast the outer side first if you're going to butter the muffin, that way the inner side is hotter and will help the butter to melt when you spread it on.
---
Toasting English Muffins Using a Toaster
You can also use a toaster to toast English Muffins and this works well, however, be aware that a sliced muffin is small so it can be difficult to remove from the toaster once it's toasted.
If you're having trouble getting your muffins out of the toaster turn of the power and gently prise it out using some plastic tongs or something similar.
How long English Muffins Take to Toast
Although English Muffins are small, they do take longer to toast than most other shop-bought breads because the texture is generally denser than basic bread.
As with most bread products, the texture of an English Muffin will change depending on how long you toast it for, the longer you toast the muffin the darker and crispier it will become. So, it's really down to personal preference and what you're going to be using the muffin for.
If you're toasting a muffin to eat it alone with butter or another topping it will take around 3-4 minutes under medium heat to create a golden brown colour. If you're using the muffin as a sandwich bun around 2 minutes is enough to heat it without it becoming too crispy.
If you're using the English Muffin as a bread for a breakfast muffin then usually they are just lightly toasted/heated to retain the softness of the muffin.
TIP: Not sure if you have all the necessary bread baking equipment at home? Check out my recommended picks below (Amazon links):
---
How to toast an English muffin Without a Toaster
If you don't have a toaster or a grill, it's possible to toast an English Muffin in a frying or griddle pan. There are a few ways you can do this depending on how much you want to toast the muffin.
If you just want to warm through the English Muffin without too much colour or toasting then you can just split the muffin and place it in the pan over medium-high heat for a minute or two on each side.
For a darker more toasted effect, rub the pan with a little butter to help the muffin brown while adding some extra flavour, repeating on both sides until golden brown.
Below is an example of an English Muffin which I toasted in a pan, with and without butter. The muffin on the left was lightly toasted to warm through in a dry pan and the muffin side on right was buttered before toasting.
It's worth noting that the muffin with butter toasted very quickly and was on the verge of burning because butter does burn easily. I used butter over other oils because it just takes better and won't make the muffin greasy as oils would.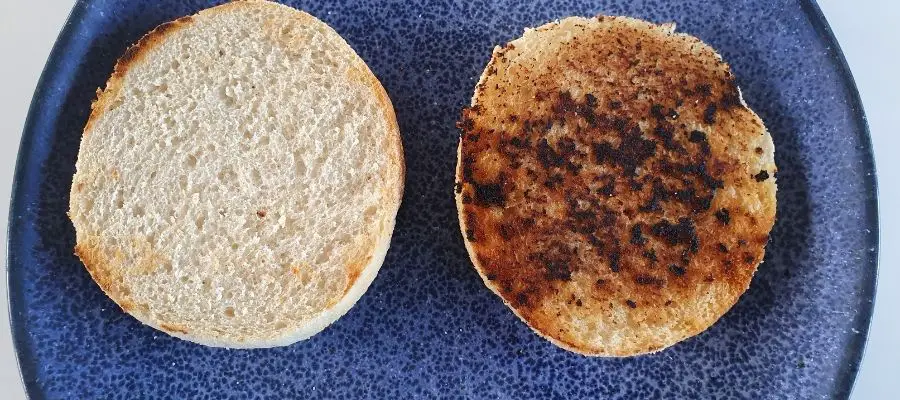 ---
Can you heat an English Muffin in a Microwave?
If you're just looking to warm through an English Muffin to soften it up to use as a breakfast muffin or sandwich, then it is possible to heat it in a microwave, although it's not possible to toast or colour a muffin in a standard microwave.
I heated up an English Muffin using a microwave (using the method below) and the results were surprisingly good. Steam is created while the muffin heats which makes it soft, fluffy and easy to pull apart.
Time needed: 2 minutes.
How to heat an English Muffin in a microwave
Place the muffin in a microwaveable bowl.

Keeping the muffin whole (for best results heat one at a time).

Add some water

Spray or splash a few drops of water onto the top of the muffin to keep it moist as it heats.

Microwave on full power

Heat for around 30 seconds until the muffin starts to steam.

Carefully cut open to serve

The muffin will tear apart using your hands or you can slice with a serrated knife.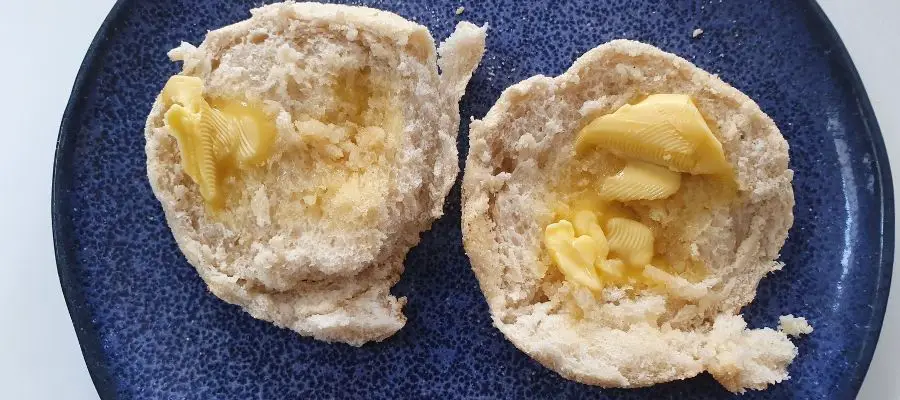 ---
Toasting an English Muffin on a Campfire or Barbecue
It's also possible to toast an English Muffin on a campfire or barbecue which is great if you're camping and want to make some breakfast muffins with bacon or sausage straight from the fire.
The best way to toast an English Muffin over fire is to slice it in half and put it on a skewer or long fork and hold it near to the fire until you have the right colour. You can also buy toast holders for the campfire which work really well too.
If you're heating an English Muffin on a barbecue, slice it in half and place directly onto the grill for a minute or two on each side.
They can quickly start to burn near the flame, so keep an eye on them while they cook.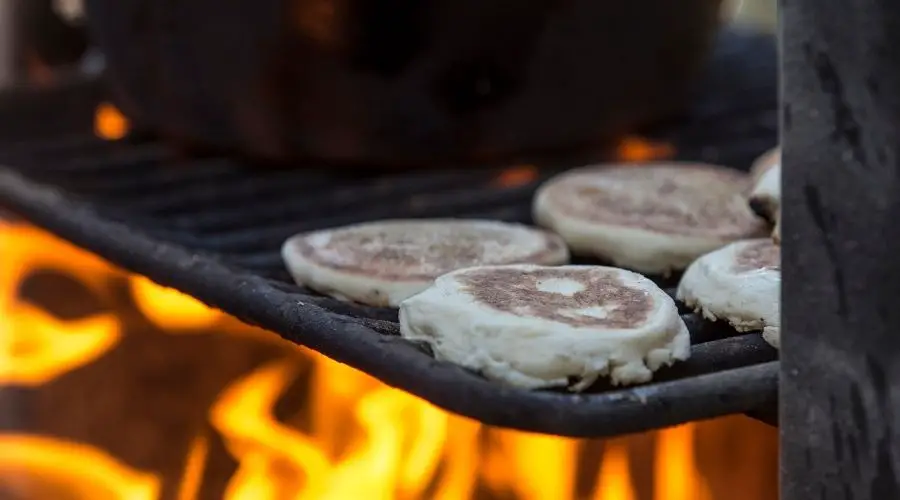 ---
You might also like
I hope this post has helped you to find out more about heating english muffins and how you can get the best flavours and textures, you might also find the following articles helpful:
How to hea eed to Heat Wraps and Tortillas? 5 Proven Options