The traditional white tin is one of the UK's most popular breads and millions of loaves are sold across the country each day. 
This recipe is based on a traditional recipe for white bread that can be used for many bread shapes and sizes.
Making your own bread is so rewarding, it smells and looks amazing and you know exactly what's gone into it.  This loaf is easy to make and versatile to use. 
Use it for sandwiches, the best tasting toast, the ultimate cheese toasties or make a bowl of soup extra special with a slice of warm bread and real butter. 
This is a great recipe to start with if you've not made bread before.  I also use a bit of butter for a lovely soft loaf which keeps that little bit longer.
You'll need a loaf tin, or a baking sheet if you don't have a loaf tin, we'd also recommend using a dough scraper if you have one.  Find out more about bread-making equipment here.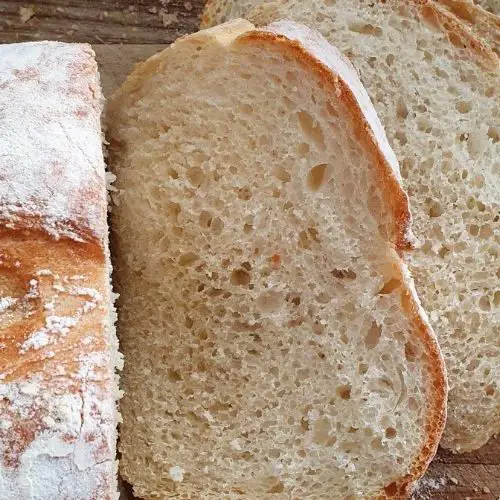 Recipe for white bread
This easy to make white bread recipe is the basis for many types of other white bread recipes in various shapes and sizes and is the perfect recipe for beginner bread makers.
Equipment
Bread tin or baking sheet

Large mixing bowl

Mixer with a dough hook (optional)

Dough scraper (optional)
Instructions 
Weigh the flour into a large bowl or the mixer bowl (if you're using one).

Add the yeast and salt to the flour, keeping them separate on either side.

Measure the water into a jug (see tips on warm water below). 

Make a well in the flour, add butter and the water mix and bring together.

Knead the mixture by hand for around 15 minutes on a floured surface or for 10 minutes using a dough hook.

Place the dough back into the large bowl and cover with clingfilm or a damp tea towl.

Let the dough rise until it's doubled in size – for at least one hour (time will depend on how warm the room is).

Once the dough has risen, scrape the dough out of the bowl onto a floured surface. 

Knock back the dough by kneading a few times to get rid of any large air bubbles.

Lightly oil the bread tin with olive oil (if you're using one).

If you're using a bread tin, shape the dough into a rectangular shape so it fits in the tin with any creases facing down. If you're using a baking tray, shape the dough into a round shape and place it on the tray.

Cover the loaf with a clean tea towel or place it in a large bag, making sure the plastic doesn't touch and stick to the dough and let the dough prove (rise again) for another hour.

Once the hour is nearly up, preheat the oven to 230°C/450°F.

Slash the top of the loaf with a serrated knife (about 1/2cm deep) (see tips below).

Place the bread in the oven and bake for around 30 minutes until it's golden brown and sounds hollow when you knock on the base.

Take the bread out of the tin, leave to cool on a wire rack and enjoy!
Nutrition
Sodium:
412
mg
Calcium:
8
mg
Vitamin A:
75
IU
Sugar:
1
g
Fiber:
1
g
Potassium:
57
mg
Cholesterol:
6
mg
Calories:
204
kcal
Saturated Fat:
2
g
Fat:
3
g
Protein:
6
g
Carbohydrates:
37
g
Iron:
1
mg
TIP: Not sure if you have all the necessary bread baking equipment at home? Check out my recommended picks below (Amazon links):
How to weigh out warm water for bread making
I can understand if you're thinking – why is she telling me how to weigh out warm water, but if you've not made bread before, I think this is useful to know.
Water for bread making should be just warm or 'tepid', my method for creating the right temperate which softens the butter at the same time is:
Place a jug on the digital scales and pour in 150ml of boiling water.
Add the butter to the hot water and leave for a few minutes while you weigh the dry ingredients.
Top up the water and butter mix with 150ml cold tap water and you should now have warm water and melted butter.
You can also use water from the kettle which has cooled from boiling to just warm, but this takes more planning ahead. 
---
Why do you need to slash dough?
Slashing the dough before the bread goes into the oven helps it to expand as it cooks in the oven and it also creates a nicer looking loaf.
It's important to use a sharp serrated knife such as a bread knife to create a quick clean cut so you don't deflate the dough.
Using a knife which isn't serrated tends to drag the dough and let the air out. Find out more about slashing dough in the following post:
How to score or slash bread dough and why we do it
---
How to keep homemade bread fresh
As with most homemade bread, this loaf is best eaten fresh, but it can be stored in a large paper or plastic bag if you have one.
If you're a keen baker, you may want to consider to invest in a reusable bread bag.
It makes the best tasting toast the day after or if you're feeling adventurous, try out one of our leftover's recipes.
---
Other White Bread Recipes You Might Like
If you're looking for more white bread inspiration, you might like to try one of the following recipes: