I wanted to put together a complete and ever-growing and ultimate list of types of bread from around the world.
Bread is one of the main food types in many countries around the world, we all have different takes on recipes, bread names and how we use it in our diets.
In the list below, I've detailed many bread types along with some useful information including links to recipes, information on flour types and which leavening process is used for rising. So, in no particular order let's go…
---
Breads made without yeast
Sourdough bread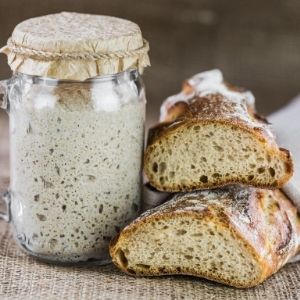 Sourdough is a bread type made using a sourdough starter to leaven the bread rather than yeast.
The sourdough starter is generally made by adding a mix of flour and water to a jar. The process is repeated day by day until you have an active and bubbling sourdough starter which is then mixed into the dough ingredients to act as a raising agent. Sourdough takes longer to rise than a yeast dough, this slower process along with the sourdough starter creates a unique flavour and a rustic style bread.
Sourdough can be made using a variety of different flour types depending on what final result you're looking for and so can the starter.
---
Irish Soda Bread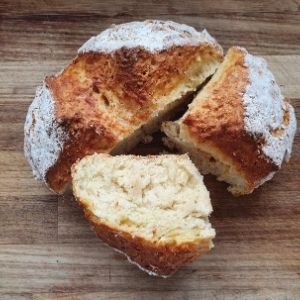 Soda bread is a traditional Irish method of making bread without yeast which uses baking soda instead to leaven the bread. Soda bread can be made using various flours and also works well with added ingredients to create extra flavours such as cheese and onion.
Many soda bread recipes use buttermilk as the liquid, which helps to create a rich and creamy dough texture. Soda bread goes well with soups and stews and is best eaten very fresh while the crust is still nice and crunchy.
Soda bread is a quick and easy bread to make because the dough doesn't require kneading, rising or proving. Give it a try using this soda bread recipe.
---
Australian Damper Bread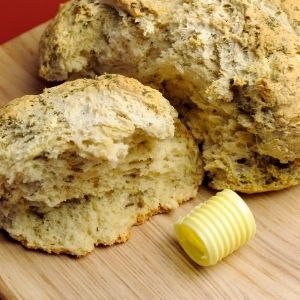 Australian Damper bread is similar to Irish Soda bread and is generally made using self-raising flour as the raising agent. Traditionally damper bread was cooked in a fire and this bread would be a great one to try if you have a camping trip planned.
Like Irish soda bread, damper bread is quick and easy to make and doesn't need any kneading or rising time. Other ingredients can be added to the dough to create more flavour and texture.
---
Beer bread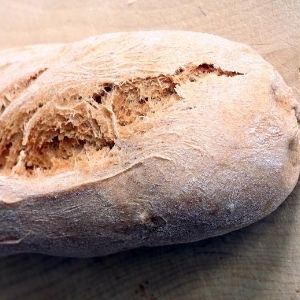 Beer or ale bread uses beer as a rising agent as well as it being the liquid element of the dough recipe.
Using beer in bread not only helps it to rise, but it also enhances the flavour of the bread too.
Various types of beer can be used for bread depending on the final outcome and depth of flavour you're looking for. Beer can also be used alongside yeast to help the bread to rise higher.
TIP: Not sure if you have all the necessary bread baking equipment at home? Check out my recommended picks below (Amazon links):
---
White bread varieties
The following white bread varieties are all breads which are made using white bread flour but have a slightly different method of shaping or ingredient variation.
All of these bread types are generally yeast-risen, but can also be made using sourdough.
The tin or sandwich loaf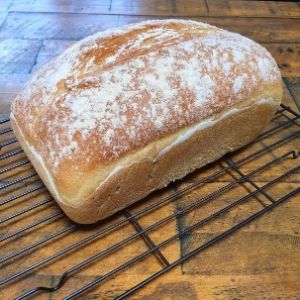 The tin or sandwich loaf is one of the most popular bread types in many countries across the world. The reason it's so popular is because it's the right shape for sandwich fillings, toast and toasted or grilled cheese sandwiches.
The tin loaf takes its shape by using a bread tin, the dough is proved and then baked in a bread tin, causing it to rise up and increase in size. Although white bread recipes vary slightly, they are all fairly similar and mainly use bread flour, yeast, water, salt and in some cases butter and milk.
If you want to have a go at making a white tin loaf, try my white bread recipe here.
---
Milk bread or milk loaf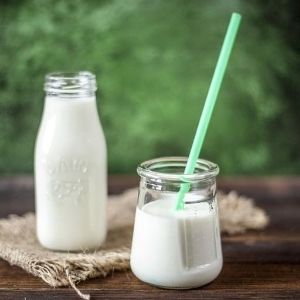 Milk bread or milk loaf is basically bread where milk is used as the liquid element instead of water. Some or all of the liquid content can be replaced with milk depending on the result you're looking for.
Adding milk to bread helps to create a softer creamy coloured dough which leads to a softer and lest crusty bread when compared to a bread which is made using water.
Although milk dough is softer it does tend to produce a heavier dough, if you're looking for a lighter bread you can try replacing just half of the water with milk.
---
White cob loaf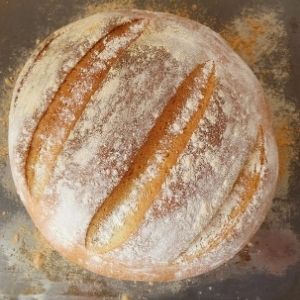 A white cob loaf is a rustic farmhouse style bread where the dough is shaped into a smooth rounded shape, proved and risen on a baking tray.
The key to a good cob loaf is to get a smooth and tight shape which rises upwards instead of flattening out.
Cob loaves are usually slashed before baking to create a unique and rustic finish.
I made this cob loaf using a basic white bread recipe and shaping the loaf after the first rise.
---
Bloomer loaf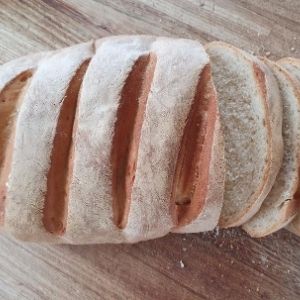 A bloomer loaf or bloomer bread is again a soft white bread recipe which is shaped. The bloomer is shaped into an oval shape and then proved and baked on a tray.
Lines are slashed across the dough before baking to create a rustic farmhouse looking finish.
Bloomer bread works well as a sandwich loaf or sliced up with butter or cheese. You can find out more about bloomer bread here.
---
Plaited loaf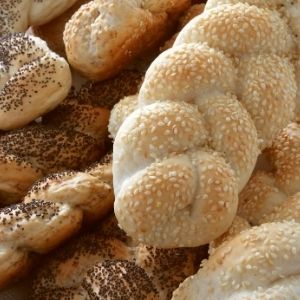 A plaited or braided loaf is a decorative way to shape bread and is usually made for a special occasion.
Plaited bread can be as simple or difficult as you want it to be, from a simple 2 or three-strand plait to multiple strands and even elaborate displays.
This method can be used for different types of doughs and can be used for larger loaves and smaller bread rolls. You can also create a plait effect on top of a tin loaf for a special finish to the loaf.
---
Bread types table
The table below details all the bread types on this page along with some more useful information about each bread type.
Bread type
Rising agent
Flour type
Sourdough
Sourdough
starter
Various bread flour
– white
brown etc
Soda bread
Bicarbonate of
soda
Various – white
brown etc
Damper bread
Self raising
flour/bicarbonate
of soda
Self raising
Beer bread
Beer & yeast
(optional)
Various
– white
brown etc
White tin
loaf
Yeast
White bread flour
Milk loaf
Yeast
White bread flour
Cob loaf
Yeast or
sourdough
starter
Various bread flour
– white
brown etc
Bloomer loaf
Yeast
White bread flour
Plaited bread
Yeast
Various bread flour
– white
brown etc
Wholemeal or
brown loaf
Yeast or
sourdough
starter
Wholemeal or
brown loaf
Granary or malted
bread
Yeast
Hovis Granary flour
or malted alternative
Seeded bread
Yeast or
sourdough
starter
Various bread flour
– white
brown etc
Banana bread
Yeast/self raising
flour or baking
soda
Various depending
on recipe type
Bara Brith
Yeast/self raising
flour or baking
soda
Various depending
on recipe type
Spelt bread
Yeast or
sourdough
starter
White or brown
spelt flour
Rye Bread
Yeast
White or brown
rye flour
Cornbread
Baking powder
or soda
Cornmeal
Ciabatta
Yeast
White bread flour
Focaccia
Yeast or
sourdough
starter
White bread flour
Breadsticks
Yeast or
sourdough
starter
White or brown
bread flour
Pain de champagne
Yeast or
sourdough
starter
White bread flour
Baguette
Yeast or
sourdough
starter
White or brown
bread flour
Brioche
Yeast
White bread flour
Chapati
None
White or brown
flour
Naan bread
Yeast
White bread flour
Crusty rolls
Yeast or
sourdough
starter
Various bread flour
– white
brown etc
Hot cross buns
Yeast
Various bread flour
– white
brown etc
Steamed buns
Yeast
White bread flour
Wholemeal and brown bread varieties
Wholemeal or brown loaf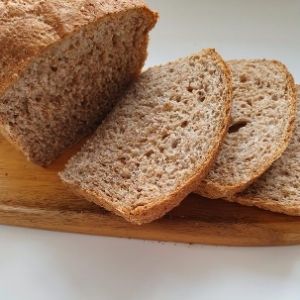 The wholemeal or brown loaf is made using strong wholemeal bread flour instead of white. Wholemeal flour can be used to replace white flour for many recipes, including the tin or sandwich loaf and cob loaf.
Wholemeal flour is made using part or all of the wheat grain to create extra flavour and texture.
Brown bread is higher in fibre and making it a healthier option and it tastes great too.
Making brown bread is just as easy as making a white loaf, recipes vary slightly as brown flour absorbs and continues to absorb more water throughout the dough making process. Try making a wholemeal loaf using the recipe here.
---
Granary or malted bread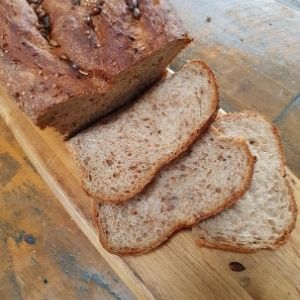 Granary bread is made using Hovis Granary Flour which is a type of malted and wholegrain flour.
Hovis Granary flour contains malted wheat flour, toasted grains and caramelised sugar. These ingredients work together to create a deep flavour nutty texture, making it a popular bread choice in the UK.
You can make a Granary loaf at home using Hovis Granary flour or an alternative malted flour. Find out where to buy malted flour here.
---
Seeded bread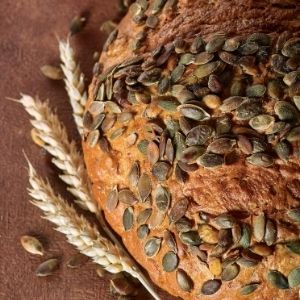 Seeded bread can really be any type of bread where seeds are added to the dough and or as a topping or decoration to the bread.
Various seeds can be added to many kinds of bread, including:
Mixed seeds
Poppy seeds
Flax seeds
Sunflower seeds and hearts
Sesame seeds
Seeds add extra texture and fibre to the bread when used within the dough, they also help to create a nutty flavour when they're added as a topping before the bread is baked.
---
Sweet bread
Banana bread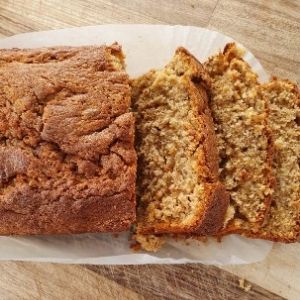 Banana bread is hugely popular at the moment, not only is it a great way to use up over-ripe bananas it tastes amazing too.
In many cases, banana bread or banana loaf recipes are a cake version rather than an actual bread. Banana cake is moister and uses self-raising flour or baking powder to rise, whereas a banana bread uses yeast to create the rise.
Extra flavours can be added to banana bread recipes, such as dried fruit and spices. Try my ultimate moist banana bread recipe or banana and fruit tea bread here.
---
Bara Brith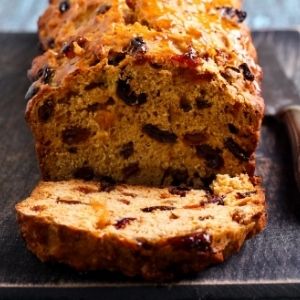 A Bara Brith is a type of Welsh tea loaf containing dried fruits. Bara Brith translates to 'Speckled Bread' and is a traditional Welsh dish.
Traditional bara brith recipes are made using yeast to leaven the bread, however, there are now many cake versions which result in a moister loaf.
Strong tea is added to the bread for extra flavour and colour and in some cases, spices are added too.
---
Breads made using speciality flour
Spelt bread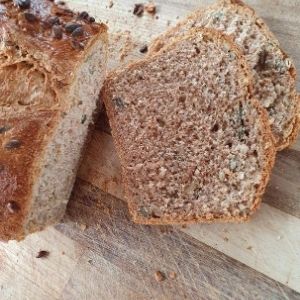 Spelt bread is made using a spelt flour which can be white or brown. Spelt is an ancient wheat grain which has a slightly sweet flavour which helps to give spelt bread a unique and deeper taste than standard bread flour.
If you enjoy making homemade bread and you've never used spelt four, I would recommend giving it a try. It's a nice flour to work with and always gives good results. Find out where you can buy spelt flour here.
---
Rye bread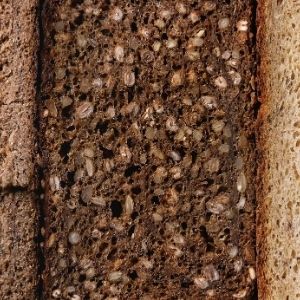 Rye bread is made using rye flour, which is a type of flour made from a grass rather than wheat. You can buy various types of rye flour, from light to dark, depending on the milling process which has been used and which part of the grain.
Rye is a stronger tasting flour which produces a denser bread because the dough doesn't raise as much as a dough containing wheat flour.
Bread made with rye flour is said to be healthier than wheat bread due to the extra nutrients found in the flour.
---
Cornbread
Cornbread is a native American bread made using cornmeal instead of bread flour and is leavened using baking soda or powder.
Cornbread recipes often use buttermilk for a soft and creamy texture and other flavours can be added too.
Perfect as a side dish for a stew or a barbecue.
---
Italian Bread
Ciabatta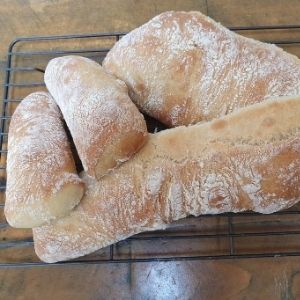 Ciabatta bread is the Italian version of a French baguette. Ciabatta is made with strong white flour and yeast and more water than a standard loaf would contain.
Extra water and a slower rising process help to create bubbles in the dough which are retained as it doesn't get knocked back, giving the bread a holey effect inside the crust.
Ciabatta goes well with many dishes and is good for making garlic bread. Try my ciabatta bread recipe here.
---
Focaccia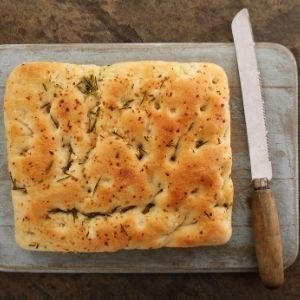 Focaccia is an Italian flatbread which is similar to pizza in that toppings are added to the bread before oven baking to add flavour.
Unlike pizza, focaccia is thicker and has a fluffier texture. It's also known as tear and share because it works well as a sharing bread in the middle of the table alongside a main dish.
Popular toppings for focaccia include fresh rosemary and sea salt, garlic or sun-dried tomatoes.
---
Breadsticks (Grissini)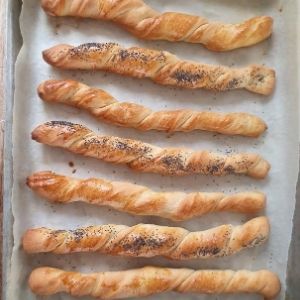 Breadsticks or Grissini are a type of Italian bread which are generally used to snack on or to eat with dips.
Breadsticks can be made in various styles from very thin sticks to rustic twists. A thin breadstick is very crispy in texture, whereas a thicker stick will retain a degree of chewiness inside the crust.
Flavours and textures can be added to breadsticks including seeds, olives and parmesan cheese. Breadsticks are perfect for sharing and parties.
---
French bread
Pain De Champagne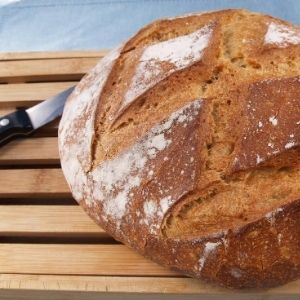 The Pain De Champagne is a type of french bread which is made using either yeast or sourdough to leaven the dough.
A crispy bread which is baked in a round shape with a distinctive pattern slashed into the top of the loaf.
This loaf can be baked at home using good french bread flour (many of which are available online). French flour generally contains fewer additives as there are no government requirements to add additional nutrients to flour.
---
Baguette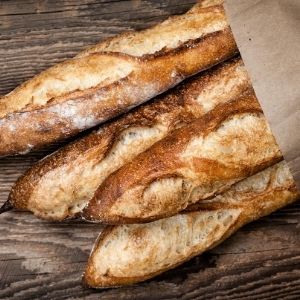 The baguette which is also known as the french stick is a classic french bread which is long and narrow. It's made in various lengths using various methods including sourdough and yeast dough.
Special tins can be used to prove and bake the dough into a baguette shape or they can be shaped by hand.
Baguettes are a rustic style bread with a crispy crust and chewy centre. They work well for sandwiches and sharing with dishes such as stews and soups.
---
Brioche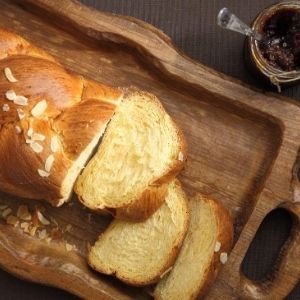 Brioche is an enriched French bread which contains butter and eggs for extra flavour and texture. The texture of brioche is fluffy and light while having a rich golden coloured yet light crust.
Brioche bread is perfect for bread and butter pudding and other dishes such as french toast, or just eaten as it is with some jam. It's also becoming a very popular alternative to the classic burger or hot dog bun.
---
Flatbreads
Chapati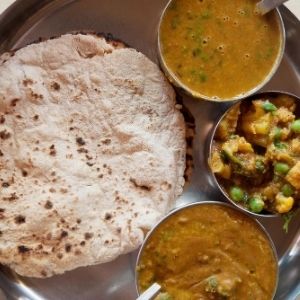 The chapati is an Indian flatbread which is made using flour and water and is generally cooked in a pan or over a fire. Cooking the chapati over a high heat helps to create a charred finish and extra flavour.
Chapati making methods vary throughout different regions including the type of flour used to make them. They are an easy bread for beginners because they don't require rising or proving.
Chapatis go well with many Indian dishes and can be used to scoop up sauces and curries.
---
Naan Bread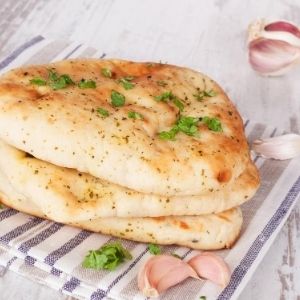 Naan bread is a flatbread which originated in Asia and is often used as a side dish to various types of curries and Asian dishes.
Naan bread is traditionally baked using high temperatures inside a clay oven or tandoor, which gives the bread extra flavour and a charred effect while having a soft texture inside.
Naan bread is made using a basic white flour yeast dough and additional flavours and textures such as seeds, herbs and garlic are sometimes added too.
---
Bread rolls and buns
Crusty roll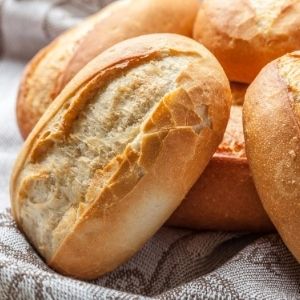 For anyone who ever went to a restaurant in the UK in the '80s (and even a few still do it these days), you will have experienced the crusty roll on a side plate.
The crusty roll is perfect warm with butter and eaten with pate, soup or stews.
You can create a crusty roll using a basic dough recipe which isn't enriched with fat or milk.
---
Hot cross buns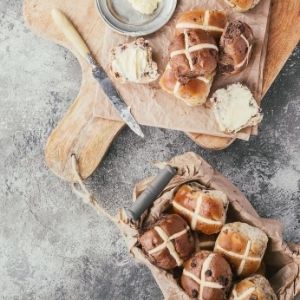 Hot cross buns are a traditional sweet fruit bun which is eaten at Easter time in many countries across the world.
The buns usually contain dried fruits such as raisins, sultanas and candied peel along with mixed spices for extra flavour.
Hot cross buns are finished with a basic cross made from flour and water, followed by a glaze to make them shiny.
---
Steamed buns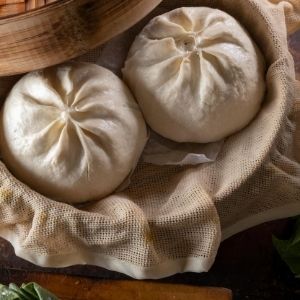 Steamed buns or beo are a traditional Chinese bun which is made using dough which is sometimes stuffed with various fillings and often steamed.
Steamed buns are a light and fluffy bun, which has no colour as it's not baked.
There are many variations and names for steamed buns depending on the region they come from.
---
You might also like…
I hope you enjoyed my post all about different types of bread, I understand there are many many more which aren't on here.
But there are so many bread types and variations I'd need a bigger website to list them all! I'll keep adding them so this list will be ever-growing over time.
You might also like the following posts:
Bread making tips and techniques